Hydraulic Pallet Trucks
One of the most common of all material handling tools is a hydraulic pallet truck. This is also known as a pallet jack, a jigger, and sometimes called a pump truck. These comparatively small pieces of industrial equipment are ideal for moving palletized goods from one place to another.  Pallet trucks are simple, practical and useful. They enable one person to move a heavily loaded pallet without the use of muscular strain, without requiring a larger piece of equipment like a forklift. 
The Pallet Jack Will Save Your Back!

Uses and Advantages of the Hydraulic Pallet Truck
We've all done it. We lifted something without thinking and then felt the painful result. We each only have one back and it can be injured easily. The wear and tear on our bodies that happens in the workplace can take it's toll over the years. We will regret the damage that will naturally and inevitably occur if we're not careful. 
Hydraulic pallet jacks were invented for this reason. They bear the brunt of the loads that we would otherwise be moving by brute force. 
For over a century, the manual hydraulic pallet jack has been a basic tool in most industrial and commercial settings. A pallet truck (or pallet jack) is a useful, practical tool that is valued wherever palleted materials are handled.
Lift-Rite Titan 5500-Lb. Capacity Pallet Truck - 27"W Forks - 48" from Amazon.com
A good quality manual pallet jack is not only ideal for industrial warehouses and larger commercial settings, but they are essential for stockrooms, shops, garages, and smaller workplace settings as well. 

You expect to see the manual hydraulic pallet truck in industrial countries such as in North America and Europe. But world-wide, companies are including the use of practical and economical pieces of equipment such as pallet trucks in their workplaces to increase the productivity and profitability. 
Hydraulic Pallet Truck,
The Little Warehouse Workhorse

These manual hydraulic pallet trucks are not only seen in various areas of the warehouse. But frequently they're seen in the aisles of our local supermarkets, big-box stores, or other large retail outlets as well. Pallet jacks make the  task of stocking shelves much easier.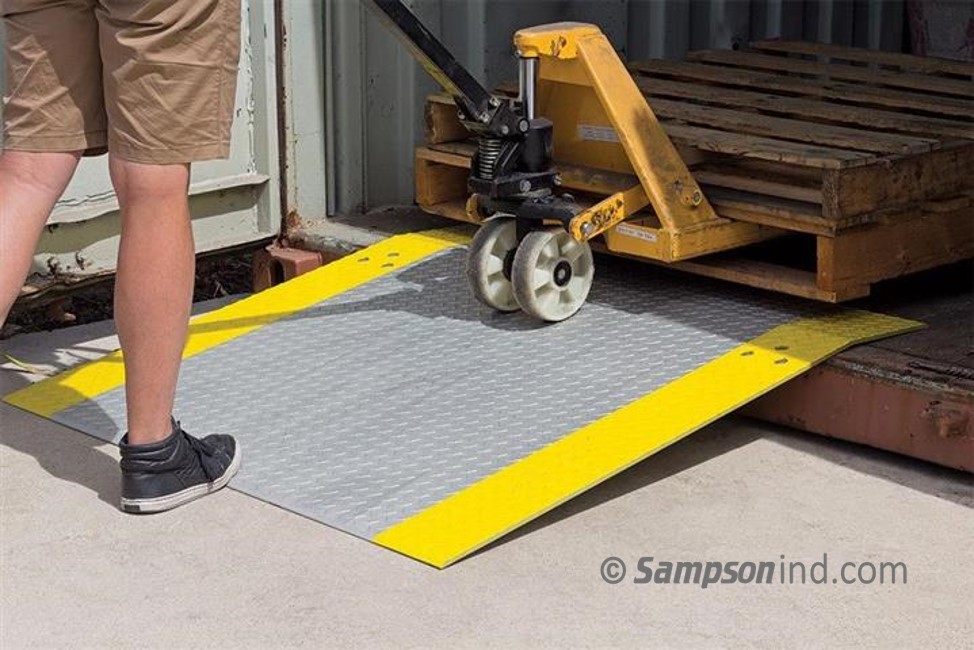 Manual hydraulic pallet trucks are easy to maneuver. They are ideal for working in compact spaces which helps to increase warehouse capacity. The pallet truck operator has good visibility due to smaller size loads. Manual pallet trucks do not emit exhaust pollution or fumes. They are also quiet to operate, not adding to the noise of the workplace. These are two of the many reasons that make them an asset for indoor logistics.

A hydraulic pallet truck doesn't require a great amount of skill to use. It's easier and less expensive to operate than other similar powered industrial equipment. They are perfect for moving loads in tighter areas and over short distances in most commercial and industrial settings. Bottom line, pallet trucks are an indispensable tool. They are the little workhorse of the warehouse. 
If interested, here's a step-by-step guide for operating a hydraulic pallet jack.
Some of the Various Types of Pallet Jacks
Besides these manually operated hydraulic pallet trucks, there are a few other types as well. In warehouse settings today electric pallet jacks are also frequently used. Electric pallet trucks are often preferred in larger operations, but it also depends on the setting. There are pros and cons for both the manual and the powered types.
For example, with the electric pallet truck you can have increased productivity, especially in larger warehouse settings. It reduces the labor of the employees, but training to operate it is required.
Manual pallet trucks are cheaper and they cost less to maintain. They can be maneuvered into tighter spaces than the electric pallet trucks, and very little employee training is required to operate them.

Heavy duty rough terrain pallet trucks are ideal on challenging terrain and uneven surfaces. They are strong and versatile, equipped with suspension and large pneumatic tires, making them ideal for use outdoors and on uneven surfaces. 
Whether in muddy conditions, in gravel, sand or snow, with these versatile workhorses, a challenging job is more easily accomplished.

---
Here is a video demonstrating the use of a loaded rough terrain pallet truck on a gravel surface. 

And there's the Walkie Stacker, used for handling and stacking pallets. This type of pallet truck has a lifting capability enabled by a mast. It is operated by a person (a 'walkie') who is on foot. The walkie stacker's operator walks behind the stacker, controlling it with a tiller (or handle) where the controls are located. With these controls, the operator is able to direct the walkie stacker forward, backwards, or to lift the palleted load higher than floor level. 
Walkie stackers are available in a variety of types, each suited to different applications. They can be either manual or powered. They are most commonly used in smaller warehouses and stockrooms for transporting & lifting pallets, eliminating the necessity of a larger and more costly forklift.
Pallet-Jack-History


The History of This Load Lifter

In the world of material handling and warehousing, many things have changed since the first part of the 1900s. Today robotics, electronic tracking and GPS systems are standard in the large, busy warehouses. But one thing has remained the same; goods and products are still stacked on simple wooden pallets. And these palleted loads require moving. 

Shortly after the turn of the 20th century the The Popular Science Monthly published an article in the Dec. 1918 edition, praising the usefulness of a rather new invention, the pallet truck. This article states, "Among the labor saving devices that help women tackle men's jobs is this hand truck, which is unloaded simply by pressing a peddle... This new truck gets under the load and lifts it." 

This little article goes on to describe the benefits of this new load lifting device and it's "very ingenious features." It explains how the pallet truck, with the handle in a vertical position is wheeled under the skid carrying the load.


"By pressing down a pedal near the front end of the truck, a hook link is raised to a position in which it engages in a notch at the lower end of the handle bar. Then the handle is swung down, and by its lever action the platform truck is lifted so as to raise the skid with its load off the floor. A hook on the pedal engages a stud on the front cross bar of the platform and holds it in its elevated position. To lower the load, a slight pressure on the pedal is all that is required."


The page where the above image is found is available in the Internet Archive. You'll see a lot of other cool stuff there as well!


Are you in need of a pallet truck? Here's a Kleton Low Profile Hydraulic Pallet Truck, 27-Inch Fork Width, 48-Inch Fork Length, 5500-lbs Capacity. 


For any questions about new or used pallet trucks, please contact us! And if you have anything that you'd like to share, please use the form below.
Share Your Industrial Pallet Racking, Material Handling and Warehouse Knowledge
Do you have experience in the warehouse? Have you learned valuable Industrial Pallet Racking tips, tricks, and knowledge that you can share with others? Share it here, and include photos if you'd like!
---
Shop For Material Handling Products
Shop For Protective Safety Workwear
---
---
Shop for Industrial Protective Safety Wear - Canada
---
---
---
---
We Created This Website 
With 

SBI!


If we can do it, you can too!


.