Website Map 
Sampson Industrial's Website Map
Welcome to the Sampson Industrial website map.  This site map has been created for your convenience to make the navigation through all the pages of our growing website an easy and enjoyable experience.  You will find links here to each of our pages and beside each link we have provided a brief description of the contents of the page.
Home Page
Industrial Pallet Racking

• Identifying RediRack - Most types of racking are not compatible with each other. It's important to know what make you're dealing with before buying additional racking. This page will help you to identify the RediRack and how other types are different. 
• Pallet Racking Components - This is an informational page where we discuss the basic components of industrial pallet racking using descriptive explanations as well as plenty of detailed photos.  
• Used Pallet Racking  -  We are continually acquiring and selling used RediRack industrial pallet racking and our large assortment of stock is continually changing. Contact us if we can assist you in your racking needs!

• Repurposing Pallet Racks - We address the importance of wise choices for our environment regarding metal that has outlived its original purpose. Through this page we're sharing some fun, frugal, useful, and innovative ways to give a new and very different life to retired industrial pallet racking.

• Our Firewood Racks - You can make these stackable racks our of used industrial pallet racking. Each firewood rack holds one cord of wood. They are perfect for drying, measuring, and storing your winter's worth of firewood! 
• Cool Bunk Bed Ideas -  Here's another out-of-the-box way to repurpose used industrial pallet racking! These spunky bunks are not only strong and sturdy but they fit right in with the trendy industrial look and will last for years to come! 
  Material Handling

• Material Handling - It's never too late to consider workplace improvements or to explore new material handling solutions.
• New & Used Equipment - Our RediRack Pallet Racking page has information about Canada's #1 choice for Industrial Pallet Racking and a bit of history as well.
 For Your Convenience

• Contact Us - Talk to us! Call or Email us! How can we serve you? 

• About Us - Trust is built on a track record. We invite you to learn about how Sampson Industrial came to be and a bit about it's President, Mike Ouellet, as well. 
• Website Map - This is the page you're on - built to make navigating through our website a convenient and pleasurable experience. 
• Your Coffee Break ☕️ Word Puzzles, Games and More - A Coffee Break Word Puzzle Page on a business website? Why not? Enjoy the interactive, work-related, mind-exercising games, puzzles, fun facts and more!  ...But not on the boss's time, of course! 


We invite you to visit us here at our website map now and then as we are frequently adding new pages. Our intentions and hope is that we can provide you with interesting and relevant information about industrial pallet racking, material handling, and more!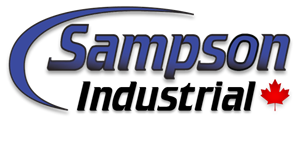 Here at Sampson Industrial we're all about serving our clients. And if you have any questions, comments, testimonials that we can use on our website, requests or orders, etc., please don't hesitate to visit our Contact Us page to let us know how we can be of assistance.
---
Shop For Material Handling Products
Shop For Protective Safety Workwear
---
---
Shop for Industrial Protective Safety Wear - Canada
---
---
---
---
We Created This Website 
With 

SBI!


If we can do it, you can too!


.