New and Used Industrial Equipment


Buying used industrial equipment instead of purchasing new workplace tools and accessories can be an efficient and cost-effective way to do business. Especially in today's economy, we all appreciate a good deal when we can find one. We are happy to supply you with new equipment, but have you considered purchasing used equipment and tools to meet your workplace needs?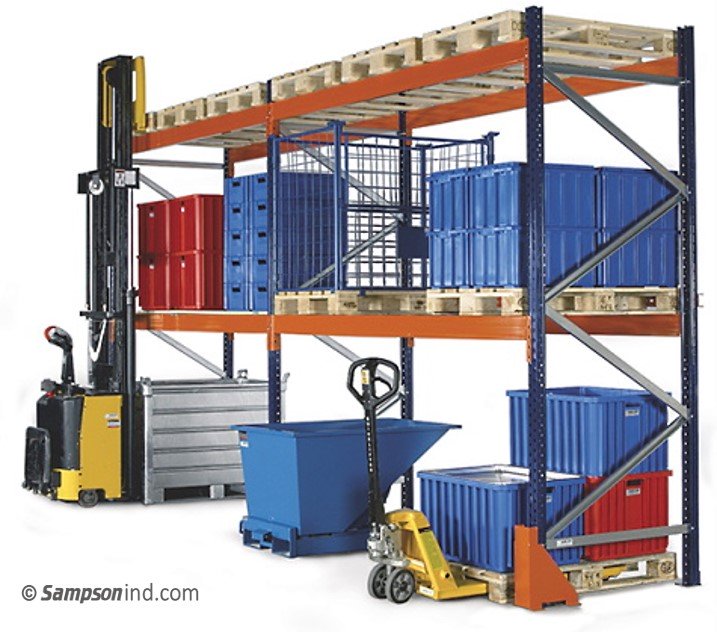 We provide a variety of new and used industrial equipment, tools, and workplace accessories. Image: imagez.co
It makes a lot of sense - and saves a lot of cents - to check out what's available before buying new equipment! This is why we sell so much used warehouse pallet racking. In the same way, used industrial equipment and material handling tools offer a great alternative to buying new items for your workplace because, in most cases, the used is just as good as new. 
Here at Sampson Industrial, we offer some good quality used industrial equipment.  Have a look below and see if there is anything that can be put to good use in your workplace. 
---
Rubber Mats
Among other pieces of used industrial equipment available we have Rubber Mats. Anyone who's job requires standing on a hard, cold cement floor for any length of time will understand how a simple rubber mat can have a significant and beneficial impact on their work. Even though a rubber floor mat might seem quite insignificant compared to other workplace equipment, it's an extremely important part of any commercial or industrial environment.

This simple piece of equipment is fundamentally important in reducing fatigue and injury in the workplace. Besides cushioning a hard cement floor, installing a rubber mat where people typically stand provides insulation from cold cement floors as well as helping to reduce vibrations and noise.  Rubber mats also absorb impact, reducing damage in case something is dropped. They are anti-slip as well as non-conductive, providing insulation against electric shock.
Since anti-fatigue rubber mat flooring reduces fatigue, aches, pains, and stress in employees, it increases productivity of the workers and, in the end, enhances the productivity of the company as a whole. Thus, a simple, good quality rubber mat well placed is a real asset to the workplace. Give us a call if you are in the market for either used or a new piece of rubber mat flooring- or any other piece of used industrial equipment.
---
Hydraulic Pallet Jacks / Pallet Trucks
Hydraulic pallet trucks, also called pallet jacks, jiggers, and sometimes pump trucks, are ideal for moving palletized goods from one place to another. A good quality manual pallet jack is not only ideal for industrial warehouses and larger commercial settings, but they are essential for stockrooms, shops, garages, and smaller workplace settings as well. They enable one person to move heavily loaded pallets without the use of a forklift. 
Pallet trucks are affordable and convenient, easy to operate and simple to maintain. More resent models of hydraulic pallet truck use a hand pumped hydraulic jack to raise and lower the forks making it even more convenient to transport one or more pallets without the use of other heavy industrial equipment. While forklifts are still used primarily in larger settings for moving pallets of goods, a hand pallet jack is essential and is one of the most undervalued and useful piece of material handling equipment that you can invest in. They are also efficient in loading and unloading transport trailers. Contact Sampson Industrial and we'll provide you with the right pallet jack or any other new or used industrial equipment to meet your needs. For more info, have a look at our page Hydraulic Pallet Truck page!
Hand Trucks / Two-Wheeled Dollies 
Hand trucks make every workplace a little more efficient. Hand trucks are also known by several other names: utility dolly (sometimes spelled 'dollie'), handtruck (one word), sack truck, box cart, or trundler to name a few. This simple piece of industrial equipment is shaped like an "L" having a tall handle that serves to support the load as well, an axle with two wheels, and a flat, thin piece of metal at the bottom called a nose plate.  To load, place the hand truck in the upright position, slide the nose plate under the boxes, then tip back and roll away. 
Perfect for moving heavier objects manually, this handy, basic tool is a necessity! Among the many different types of material handling equipment, a hand truck is easy to use and efficient. These trucks will allow you to transport goods easily, conveniently, and safely. If you need to handle heavier or bulkier loads, you should use a platform hand truck instead. Whether you need assistance moving boxes or materials at your workplace or at home, a handtruck certainly makes life a lot easier. 

It is always a wise, cost-effective decision to buy a two-wheeled hand truck for your business or warehouse. If you're looking for this great piece of used industrial equipment - or new, Contact us and we'll be glad to provide you with what you need! 
---
Dock Plates / Dock Boards
That gap... You know, the one between your loading dock and the back of the truck where accidents can happen? It's better to be safe than to be sorry!  A Dock Plate or a Dock Board is what you need to bridge that gap. 

Dock Plates are perfect for use in both large and small workplaces for light duty loading applications. Dock plates are used for manual movement using hand platform or pallet trucks. They are usually made of aluminum with locking legs which secure the Dock Plate between the dock and the trailer. 
Dock Boards, the larger, heavy duty equivalent to Dock Plates, is the best solution when dealing with heavier loads that require forklift use. Typically, they can handle capacities up to 20,000 pounds. Dock Boards are usually made of steel and have sides or curbs to prevent run-off and added strength. But if your application does not require heavy duty loading and unloading, then your more economical choice would be a Dock Plate to bridge the gap between the dock and the truck. Contact us for a wide selection of Dock Plates and Dock Boards for a size and weight capacity that would meet your needs. 
---
Mobile Ladders 
A Mobile ladder, also known as a 'rolling step ladder' or a 'rolling platform ladder', is a fixed height, self-supporting, movable ladder consisting of a varying number of sturdy, wide steps. Most have full-height handrails or guardrails on both sides, a working platform at the top with a kick-place to help prevent falls, structural supports, and casters at the bottom. 

A good quality industrial mobile ladder is a must for safely dealing with a variety of workplace tasks. Since shelving and racking systems enable available square footage under a higher ceiling to be best utilize, a quality mobile platform step ladder cannot be underestimated. When a forklift isn't available, mobile ladders are easy to roll from task to task when dealing with stock that would otherwise be out of reach. 

Contact us, for used or new mobile ladders of varying heights to meet your specific needs. When purchasing a mobile platform ladder, it is important to take into account the working height required and the load capacity. Knowing your space and your needs will help you choose the right size of mobile warehouse ladder.  
Platform Hand Truck / Material Handling Trolley
The advantages of using a heavy duty platform hand truck (also known as a platform trolley, or a material handling trolley) in a wide variety of workplace facilities cannot be overstated. This simple, strong, manual tool will save time and labor, and deliver years of reliable service in whatever setting, be it commercial, industrial, agricultural or even in the private sector.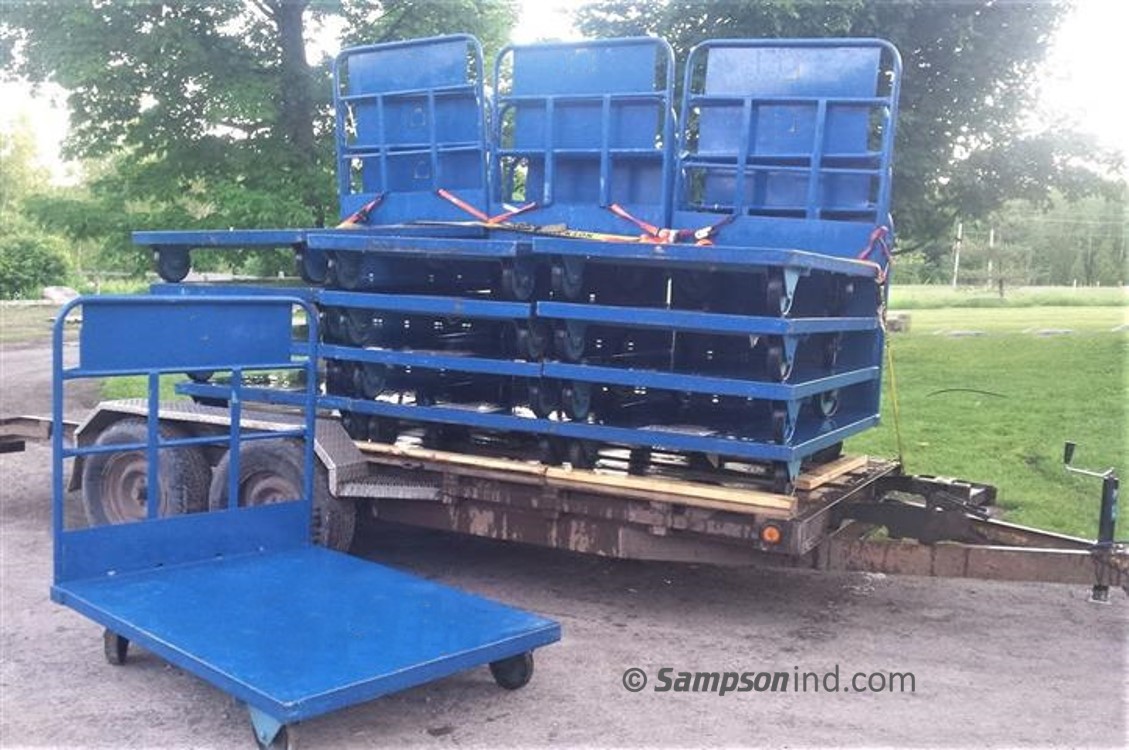 For Sale: Large used heavy-duty warehouse platform truck, 42 inches wide x 60 inches long. Contact us for details.
Whether you're transporting bulky materials, equipment, multiple boxes of products, lengths of lumber, or hay and feed in the barn, a good platform truck is cost-effective, time-saving, and energy-conserving. A good heavy duty platform truck can be found in a variety of sizes, perfect for accommodating large, heavy loads or smaller ones. They are equipped with solid rubber casters or air-filled pneumatic wheels, 2 fixed and 2 that swivel, and a sturdy handle at one end. Sampson Industrial provides great quality heavy duty platform hand trucks, both used and new. Replacement handles and wheels for platform trucks are available as well. 
If you're looking for used material handling trolleys, we have quite a few large used heavy duty platform trucks (trolleys) in stock. They have reinforced steel decks measuring 42 inches by 60 inches, with 8 inch solid rubber wheels, 2 fixed and 2 that swivel. Contact us for further information about our heavy duty platform trucks or any other used industrial equipment. 
---
---
---
Vintage Toledo Platform Weighing Scale
And here's a jewel for you! Among the various pieces of used industrial equipment that we are offering for sale at this time is this vintage Industrial Toledo Platform Weighing Scale, Model #2181, on wheels, and good for 300 kg.  

We're not sure of the date, but we're guessing that it may be from the 1960s or 1970s. This heavy duty platform scale could be put to good use in commercial or industrial settings. It would be great for a workshop or agricultural use and on the farm settings to weigh out feed or even to track the weight of smaller animals. 
---
This vintage platform scale would be useful in home-based business settings as well, or even could be purchased as a collector item. Contact us if you can use this little beauty. We were asking $600 - Now asking $300 (Canadian). 

---
If there is something that you can add that will benefit other readers, please share it in the form below. It's great when we can all learn from one another.

Share Your Industrial Pallet Racking, Material Handling and Warehouse Knowledge
Do you have experience in the warehouse? Have you learned valuable Industrial Pallet Racking tips, tricks, and knowledge that you can share with others? Share it here, and include photos if you'd like!
---
Shop For Material Handling Products
Shop For Protective Safety Workwear
---
---
Shop for Industrial Protective Safety Wear - Canada
---
---
---
---
We Created This Website 
With 

SBI!


If we can do it, you can too!


.