Identifying RediRack Pallet Racking
So you're needing some for industrial pallet racking? Perhaps you're interested in buying some RediRack? That's a great choice!

Since you're in the market for pallet racking, we'd like to spare you from a frustration that others have experienced. It is very important to be aware that different brands of warehouse racking are not interchangeable.  So, for your convenience, we've provided this page with images and descriptions to help with identifying RediRack and distinguishing it from other makes of warehouse racking. 

A Visual Comparison of Common Pallet Racking Brands
Let's take a minute first to observe how each of these products can look similar and yet are different from the other makes of industrial pallet racking. This is especially important if you're planning on adding to racking that you may already have since the different brands are not compatible with one another. 

Now that you've had a good look at some of the different makes of industrial pallet racking that are common in Canada and elsewhere, including RediRack, you can now easily detect some of their similarities and differences. Even though some brands may look a lot alike, that does not mean that they are compatible.
Information Minimizes Frustration
It can be very frustrating to have great expectations of expanding your warehouse or storage area, then buy your racking of choice, only to find out that it doesn't fit together.  If this information is helpful, we're glad. We want to spare you from that frustration! We're hoping that you can now identify the racking that you may already have. Please keep in mind that this is not a conclusive list as there are other brands out there as well. But with a clearer understanding of some of the different types, you should be able to make an informed choice when buying your industrial pallet racking. 
If you're still not able to identify the make of racking that you may already have, feel free to email us some photos of your racking and we'll help you determine what you're using. You'll find our email address in the column to the left. You can also call or use our Contact Us page.
Identifying Details of RediRack Pallet Racking
Now that you can see some of the likenesses and differences of common types of pallet racking through the use of the comparison tool above, let's have a closer look at the RediRack brand which is the most commonly used pallet racking here in Canada.
Here's What RediRack Looks Like
We'll now focus on the identifying details of the Redirack brand of industrial pallet racking so you'll know if you're already using Redirack - or another brand.
As for the color, typically, Redirack is bright orange and blue, unless it has been custom painted. Occasionally you'll find the galvanized type of RediRack. Please click on the pictures to enlarge them for clearer detail. 

The Redirack upright frames feature rectangular punch-out slots and side holes on the face of it to receive the hooks that are located on the ends of the Redirack beams. In these photos you can see the details of the RediRack joinery pattern. The slotted cut-outs are seen on the face of the upright frame. The pattern of these cut-out slots is unique to RediRack. Each make has a different slot pattern.

As you examine the Redirack upright, you'll see that there is a groove down the center of the face of the upright frame with rectangular openings in it to receive the hooks located on either end of each beam.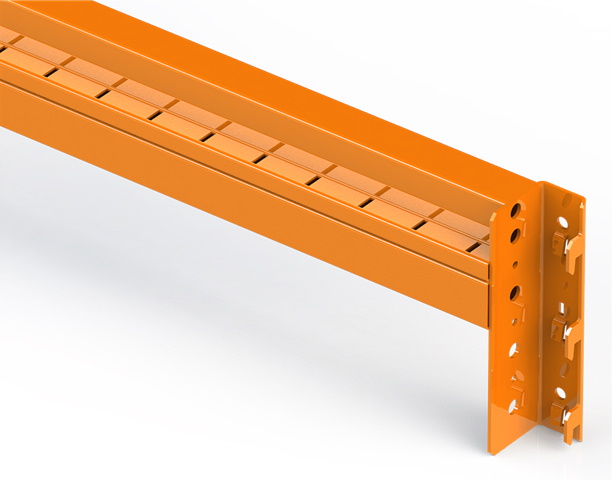 Each end of the Redirack beam attaches securely to the upright frames by means of a 6-point connection - 3 face punch-outs and 3 side-hooks. 

This RediRack step-beam shows the hooks that are at each end of the beam. This is an inside view of the beam. These strong hooks attach into the slots in the grove on the face of the upright. When attached these hooks are not seen from the outside. 

These cross beams not only hold the frames in an upright position but they also are the shelves, levels or tiers on which the pallets or other stock are placed.  You can read more about this on our RediRack Components page.

As we've stated before, not all pallet racking is compatible!
If you are already using industrial pallet racking but aren't sure exactly what make you're dealing with, please feel free to contact us by phone with any questions that you may have before purchasing more racking. A member of our experienced team will be glad to assist you.
If we can't help you identify the description of your racking over the phone, we would suggest that you email us photos of your racking. With a quick we'll be able to help you to figure out what you are presently using before buying anything to add to it. Buying racking that is not compatible is a frustration that we want of help you to avoid. We know that racking can be a bit confusing at times and we're here to help you in any way we can. 
If you bookmark this page for future use, it may be a handy reference. 
Even though RediRack pallet racking is the most common type of warehouse pallet storage used in a large variety of settings up here in Canada, you'll now be able to go into a warehouse or stockroom - or even Costco - and identify other different types of industrial pallet racking as well that you may see there. 

To wrap things up here, we'll just add that, similar to the other brands, RediRack is comprised of uprights and a pair of cross beams at each level. Spanning between the cross beams you'll need either wire mesh decking or safety bars. These create a "shelf", secure the racking structure and make the racking unit much more stable and safer. On these the pallets and other items are placed. Depending on the height of your pallets as well as the height of your ceilings, you can typically create multiple levels, also called tiers or shelves, per unit or 'bay'.
A single bay is one pallet deep, but two-deep systems are frequently used. In this case, row spacers (also called 'run spacers') are attached to pallet racking units when they are arranged in back-to-back rows.  The spacers are mounted between adjacent columns to ensure that the rows are kept straight and to give the pallet racks even more strength and stability. This also maintains a fixed safety clearance between double sided rows (or runs) of racking. If you're interested, you can learn more about the components of RediRack pallet racking on this page. 

For more information, please contact us at Sampson Industrial and we will be glad to assist you in any way we can. And if there is something that you can add to what we've shared here that will benefit other readers, please share it in the form below. It's great when we can all learn from one another.
Share Your Industrial Pallet Racking, Material Handling and Warehouse Knowledge
Do you have experience in the warehouse? Have you learned valuable Industrial Pallet Racking tips, tricks, and knowledge that you can share with others? Share it here, and include photos if you'd like!
---
Shop For Material Handling Products
Shop For Protective Safety Workwear
---
---
Shop for Industrial Protective Safety Wear - Canada
---
---
---
---
We Created This Website 
With 

SBI!


If we can do it, you can too!


.