Used Pallet Racking
Sampson Industrial's Used Pallet Racking
A frequent request from our customers and prospective clients is for used pallet racking. We are continually acquiring and selling second hand pallet racking, and our large assortment of stock is continually changing. Here at Sampson Industrial we have specialized in great quality used pallet racking for many years. Let us know what you need!

Our new clients as well as our repeat customers have trusted us with their adjustable pallet racking needs. They have often expressed their satisfaction with our innovative workplace solutions, whether for their warehouse, stockroom, workshop, material handling storage container, agricultural building, sheds, personal garage storage shelving, basement shelving, whatever the need. .Our thousands of satisfied customers can attest to our professionalism in service, knowledge and expertise. 
There are many ways that you can
Repurpose Used Industrial Pallet Racking! 

If you're a creative person who likes to think
"outside the box", stay tuned!!
We're working on our new 
Pallet Rack Repurposing
page which will be coming soon!
But Here's a taste-teaser! 
Check out our innovative Firewood Rack!
or click on the photo below!

And another fun idea that you may want to try if you're interested in repurposing used industrial pallet racking! 
Here's another fun thing you can make by 
Repurposing Used Industrial Pallet Racking! 
Pallet Racking Bunk Beds!

Check out our page to see how these bunk beds can mature with your kids!

We're working on our new 
Pallet Rack Repurposing 
page which will be coming soon!
But while you're waiting, here's another taste-teaser! 
Check out our innovative Bunk Bed Ideas!
or click on the photo below!

Used pallet racking is a cost-effective, efficient, and dependable way to go. It is very versatile, easy to install, and simple to maintain or add to. The applications and settings in which it is used are endless. 

Whether you are looking for warehouse storage solutions or garage storage shelving, storage for your agriculture buildings or shed shelving, container or industrial trailer storage solutions, we provide storage shelving ideas and solutions! Or perhaps you would like to repurpose the pallet racking to create something innovative and useful! Our used racking for sale will fit the bill in the most cost-effective way! 

Are you adding to a pallet racking system
that you already have?

Before buying more,
it's very important to determine if your racking
is Redirack or Redirack compatible. 
Here are

Identifying Details of Redirack.




We've provided a handy calculator here for your convenience to help with figuring out what you'll need since each industrial pallet racking application is unique in layout, size of the footprint, height, depth of rows, weight load, heights of tiers, etc.
Feel free to give us a call or contact us with any questions that you may have! We're available for consultation and are happy to advise regarding appropriate sizes for weight loads, prices, or any other questions! We're here to support our valued customers.
We constantly have a large variety of used pallet racking in stock ready to meet your requirements! 


Identifying Redirack Pallet Racking

If you are planning to add to the warehouse racking that you already have, it's important to know that there are several common industrial pallet racking manufacturers. They are not all compatible with one another.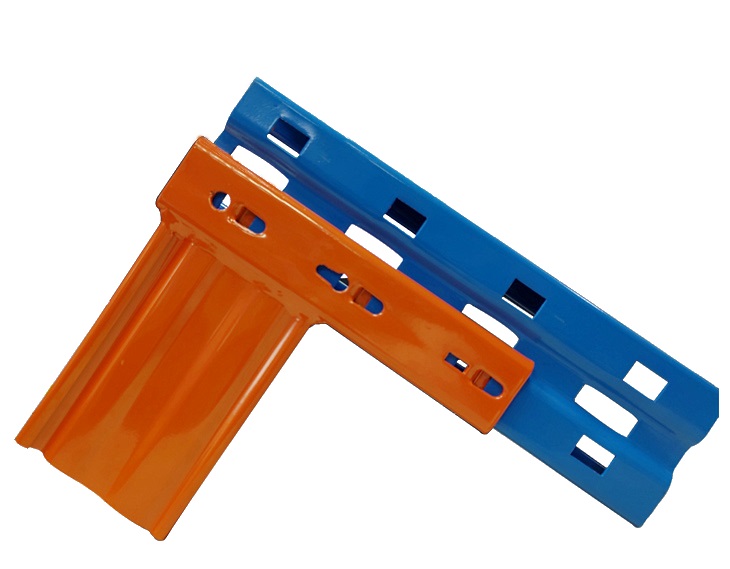 Redirack upright frame face and beam joinery. Click to enlarge picture.
Before purchasing more racking, it would be important that you identify what type you are already using before adding to it. If you aren't sure which type you have, please send us a clear, close up photo of the front face of the upright frame. We will be glad to help you identify the brand in order to eliminate frustration later.

Here at Sampson Industrial you can draw upon our years of experience. If you have any questions regarding which products will serve your purposes the best, please feel free to contact us. 
Client Testimonial:
"I'll be needing some more used
pallet racking from you soon!" - Ron

Used Uprights or End Frames
 

Our wide variety of Redirack Uprights (End Frames) is constantly  changing! We have a large variety of varying heights and depths in stock. 

A common depth used in warehouses (which fits a standard 40" x 48" skid or pallet) is 42" deep. A common size for an automotive shop or garage would be 18" to 24" deep on which tires fit nicely depending on their sizes. There are varying depths, but your application will determine the size that you need.

As for the height of the upright frames, they are available from workbench height to over 25 feet tall, fitting well in any storage setting.

Please call us with any questions. 
---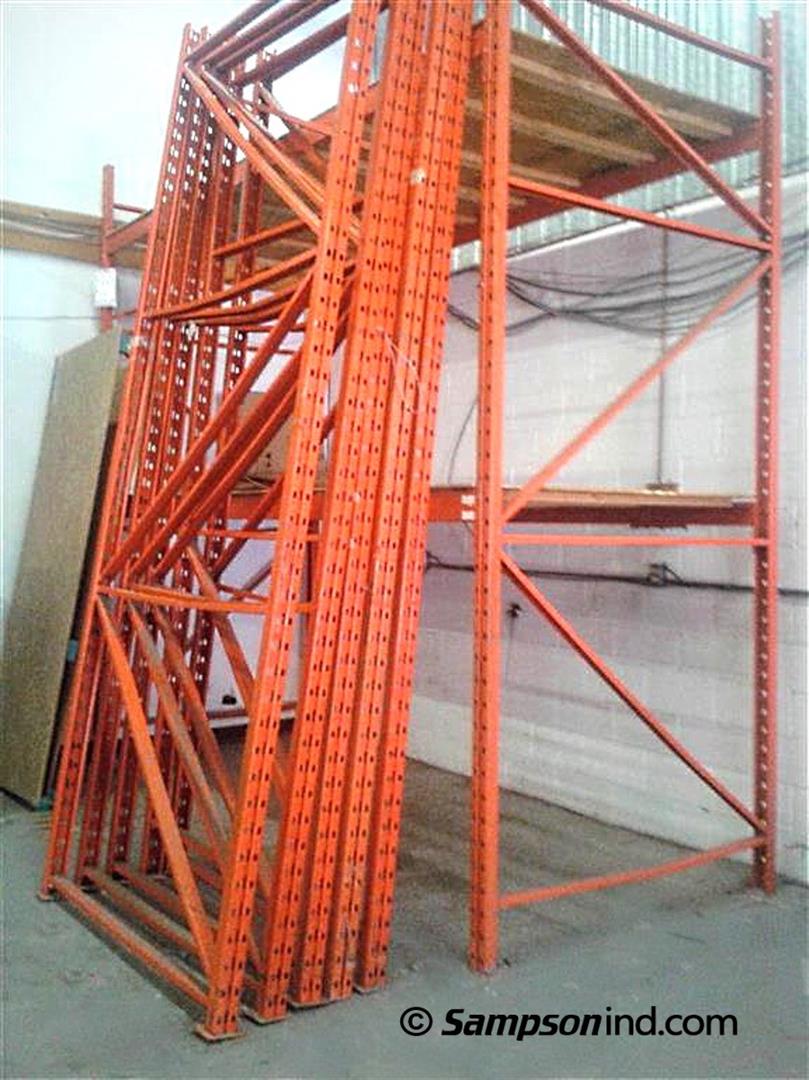 Redirack Uprights / End Frames
Redirack Uprights / End Frames - Photo:Aliba
Our used pallet racking is perfect for one of our clients for storing his leather motorcycle jackets.
We did a couple of innovative adjustments for one of our clients who sells leather motorcycle jackets. This custom work converted the warehouse pallet racking into coat racks for his warehouse. Our used pallet racking is perfect for his need for a strong but simple structure for his well-organized warehouse. This enabled them to expand their stock and they were quite happy with the result. 


Used Beams or Cross Bars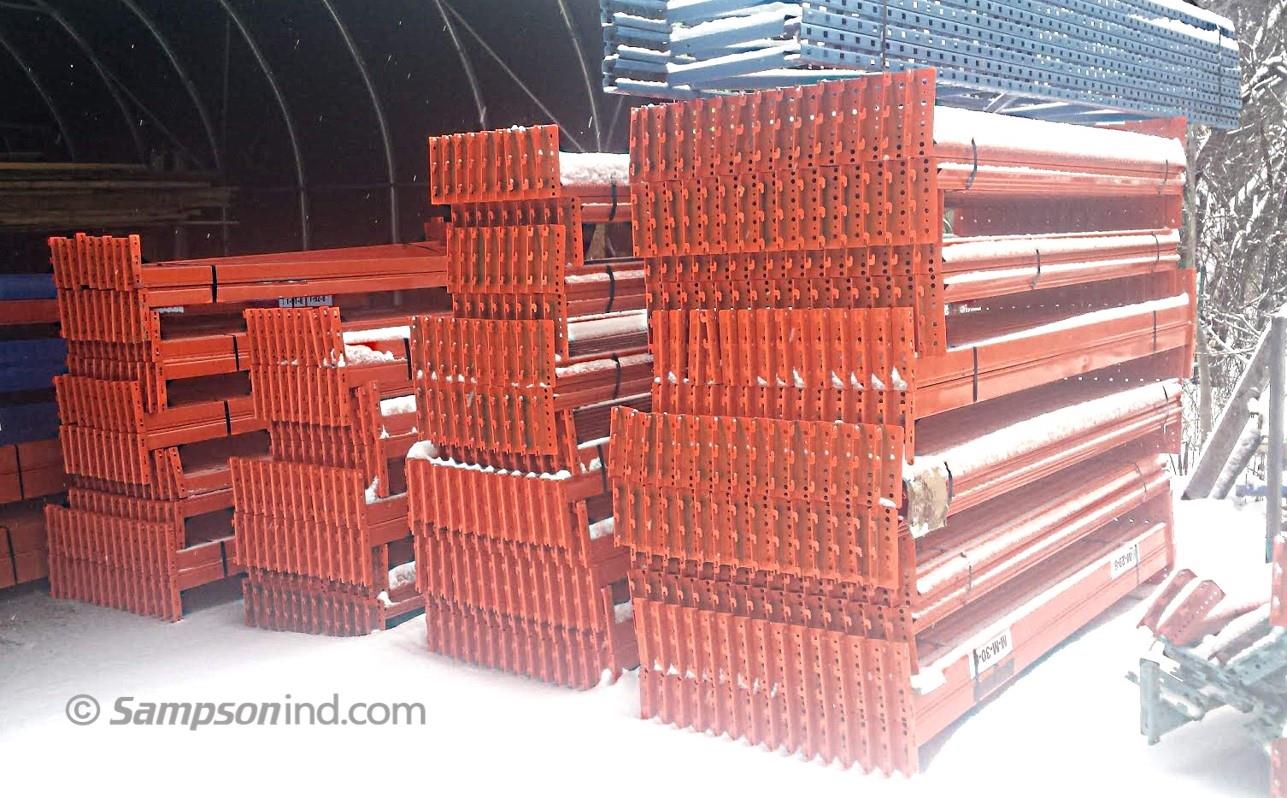 Redirack Beams - A new shipment of used pallet racking just arrived and soon to be sold!
---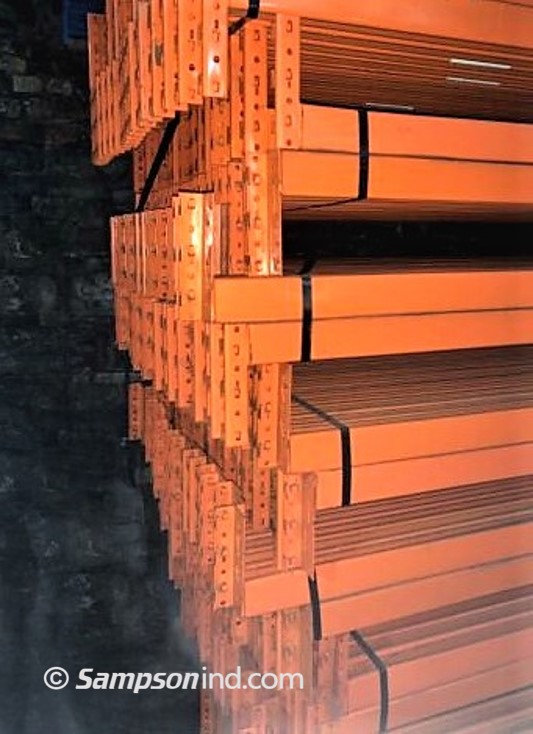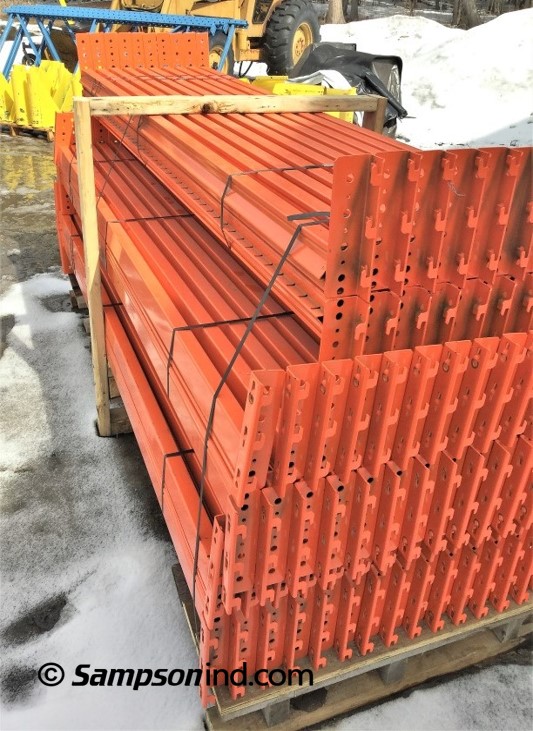 Orders packaged and ready to be shipped to satisfied customers...

---
There is a constant rotation of our stock of used Redirack industrial pallet racking beams here at Sampson Industrial! 

It is extremely important to know the load weight of your pallets to determine the size of the beams that you'll need. 

We ensure that our used pallet racking is of good quality. If beams have been previously overloaded they will be bent and unsuitable for resale. Every piece of our used racking undergoes a vigorous inspection to make sure that they are 100% safe and reusable. 

Please give us a call or see our Contact Us page if you have any questions, or if you'd like to place an order for pallet racking with us. 


Wire Mesh Decking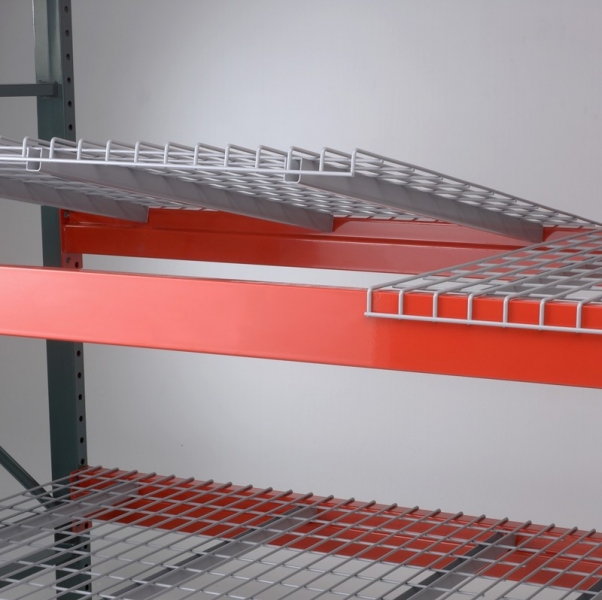 Wire mesh decking - the best choice for spanning the beams. Photo:Aliba
Wire Decking is used to span between the beams, serving as a horizontal "shelf" for storing your materials and products. 
It is a popular choice of our clients and is used for a wide variety of applications, replacing the old plywood, press-board, and other wood decking which collected dust and debris and was a fire hazard. Wire decking is adds stability, and is much stronger, versatile and durable. It also meets the safety and fire code requirements.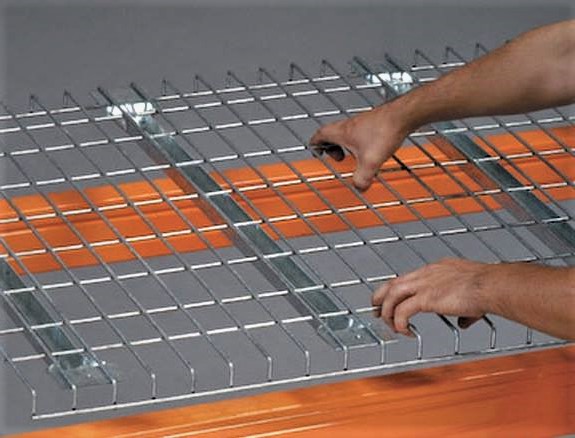 Wire mesh decking offers many advantages and is very easy to install. Photo:Aliba
There are many sizes and a couple of styles of wire decking available. One is specifically designed for the step style beams in which the metal support rests on the inside step of the beam. The other wire mesh decking style has the built-in safety bars that rest on top of the beam and works great for either the box beam or the step beam.

Adding stability, this heavy duty wire mesh decking is ideal for use in many applications, for either fully loaded pallets or irregular and smaller items. With it's built in safety bars, wire mesh decking is a popular and excellent option for storing loose items. It is cost-effective, simple to install, maintenance free, and not as susceptible to damage as wood or particle-board decking.

We'll be glad to provide you with either new or used. Give us a call if you'd like to experience the advantages of wire mesh decking! 


Redirack Safety Bars

 Sometimes called Pallet Supports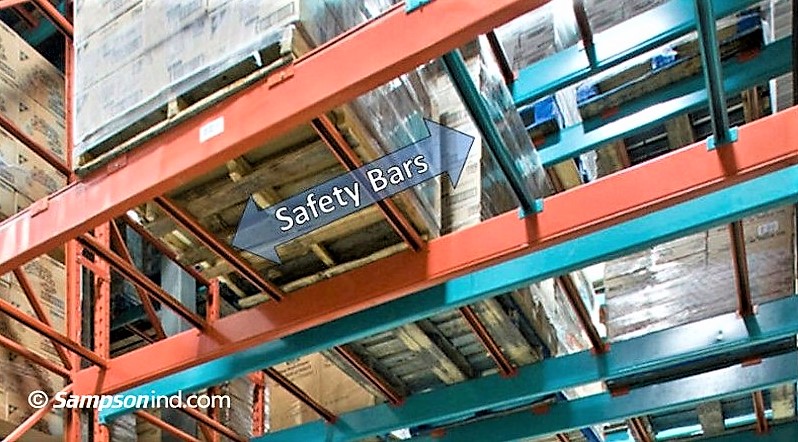 Safety Bars are a must for safety issues and stability.
If you choose not to use wire mesh decking, then pallet racking safety bars, sometimes called pallet supports, are a must! Safety bars are placed laterally between the beams creating an under-girding for the pallets. These are a necessary safety component for industrial pallet racking!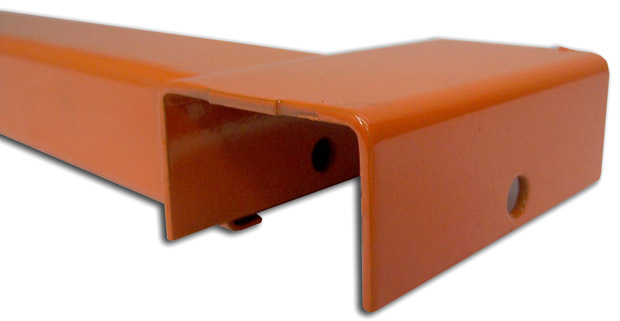 Hook-over safety bars work well for both Box Beams and Step Beams. Photo:Redirack
Without safety bars, it's very easy for bumped or misplaced pallets to accidentally fall through the horizontal beams. Safety bars also provide added stability to the pallet racking structure. Many avoidable and expensive accidents can be prevented with safety bars or wire mesh decking (which has built-in safety bars) properly in place. These vital components make it easier to meet applicable health and safety regulations. We have both safety bars and wire mesh decking available in an assortment of sizes. Please remember these important components when when ordering your used pallet racking! 


Other Racking Components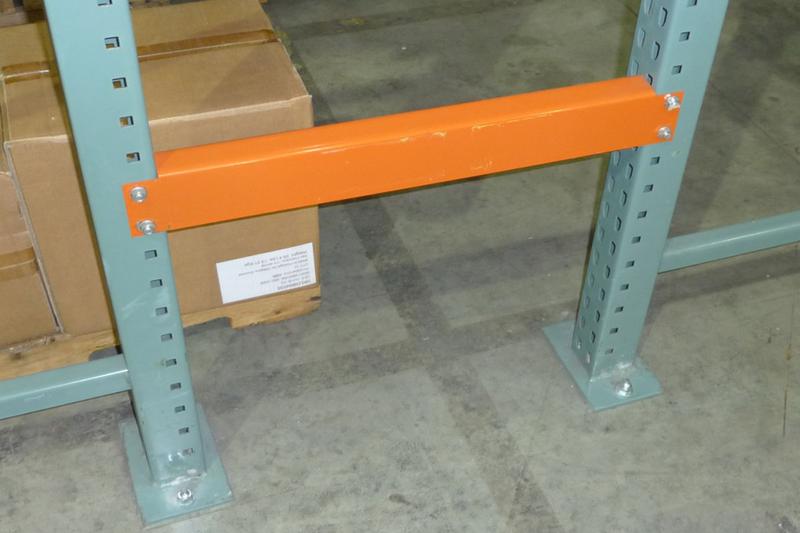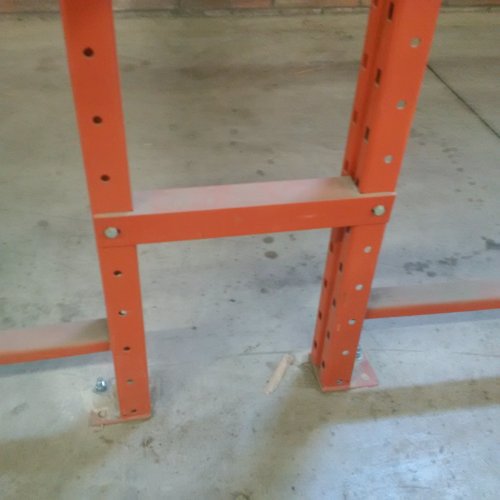 Pallet Rack Row Spacers are available in a few different styles. They are used for back-to-back rows, providing uniform spacing and alignment for double rows of industrial pallet racking.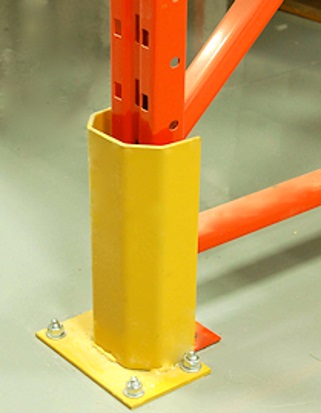 Redirack Corner Protectors - Photo: AppleMark
Corner Protectors are a great safety feature that protects the bottom of your upright end frames from damage that can be caused by forklifts or other equipment in the warehouse. They are durable, highly visible and easy to install. This cost-effective safety precaution is an important component to your Redirack pallet racking systems.  



---
---
Shop For Material Handling Products
Shop For Protective Safety Workwear
---
---
Shop For Protective Safety Workwear - Canada
---
---
Amazon's Best Occupational Health and Safety Products
---
---
Powered by 

SBI!


If we can do it, you can too!


.