Your Coffee Break

☕

Word Puzzle Page




Find your favorite Word Puzzle, Sudoku, Fun Facts, History Quizzes, and Interesting Tidbits, and More...
        
Play it here! 

A Coffee Break Word Puzzle Page on a business website? Why not? You know that old saying, "all work and no play..."? Well, dullness won't do! So, check out our puzzles, games, fun facts, and more - pretty much all work-related, of course! ...But not on the boss's time! 

It's a great way to relax as well as to test a bit of your on-the-job knowledge while on your *coffee break! The games and puzzles here on this page are interactive, educational, and maybe even addictive. So, go ahead and give them a try. Test your knowledge and have fun!
A question for you...

Do you know what forklifts and spider legs
have in common?


Click me for the answer!
Keep scrolling down for more #FunFacts!
Material Handling Word Search
 Search for Words Relating to Material Handling
Another Word Puzzle - Play this interactive Word Search solo or with friends to see who can find the words first! When you find a word, run your finger or cursor over the word. Correct answers will turn green and the word will be crossed off the list on the right. 
Receive your "Winner Certificate"!
Then refresh the page for another game with similar words.
Sudoku


An Addictive Logic-based Number Puzzle


If you don't know how to play Sudoku and would like to learn, check out this short, informative video. Start Easy and progress to have hours of fun!  **

A Sudoku #FunFact!
Did You Know? Despite its Japanese name, Sudoku as we know it today, was invented in the U.S. in 1979 by a 74-year-old retired architect. Find out more interesting facts about this fun numbers game!

Business-Related Hangman Game
Business-Related Hangman Game
Don't get hung up with this Hangman game! This simple, but this very old, spelling game is not exactly politically correct these days, yet it seems to remain popular as ever. To play, click on a letter and try to discovery the mystery word. These words are associated with business. You can do it - give it a try!
Various Vocations Word Scramble
Various Vocations Word Scramble
Most of us sustain ourselves by working at a job and earning a paycheck. The work we do is important, and there is an endless variety of jobs or vocations through which we earn our livelihoods and fulfills our roles in society. See if you find your job title in this Word Scramble Puzzle.
Warehouse Crossword Puzzle
Warehouse Wisdom
Test your knowledge with this interactive
Crossword Puzzle!
Warehouse Jigsaw Puzzle
And a Warehouse Jigsaw Puzzle for you!
Jigsaws puzzles can be fragile things. They always end up going to pieces. But I always find completed jigsaws to be quite relaxing. Very piece-full...
Work One-Liners

Work One-Liners

Claustrophobic people are more productive thinking out of the box.
~~~
My boss is going to fire the employee with the worst posture.
I have a hunch, it might be me.
~~~
Why kill time when you can make it work for you?
~~~
What do you call a boat full of polite football players?
A good sportsman ship.
~~~
Cleaning mirrors is a job I could really see myself doing.
~~~
I start every conversation with my employees by saying,
"I shouldn't be telling you this" just so I know they will listen.
~~~
Currently the flower business is blooming.
~~~
What's the difference between a jeweler and a jailer?
One sells watches and one watches cells.
~~~
The best way to keep a job is to work at it!
~~~
Just got a job as senior director at Old McDonald's Farm.
I'm the CIEIO.
~~~
How much did the butcher charge for his venison?
A buck!
~~~
The artist thought his favorite paint had been stolen,
but it was just a pigment of his imagination.
~~~
I used to build stairs for a living, it's an up and down business.
~~~
What does a mathematician say when something goes wrong? Figures!

#FunFacts
What are Ants, Butterflies and Lizards 
Teaching Industry Moguls?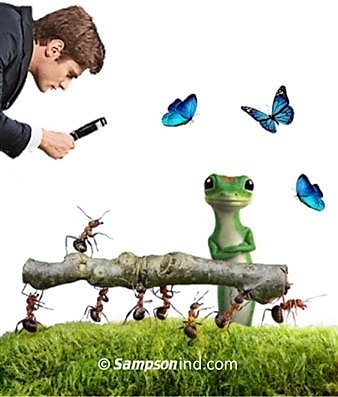 Read how a business mogul observing ant colonies, butterfly swarms, and lizard tongues can teach industry a lesson!
Sometimes the wisest thing we can do is to learn from the lowly. "Researchers at Festo, a German industrial control and automation company, are taking their cue from the natural world to gain valuable insights that could one day transform industry," writes Peter Shadbolt. In this interesting article, he explains how ant colonies, butterfly swarms and lizard tongues are teaching industry a lesson!
---
Try this Industrial History Quiz!
Do you know...?

     -  Where did the Industrial Revolution begin?
     -  When did the it begin?
     -  What industry set the Industrial Revolution into motion?     
     -  Who was affected most by the Industrial Revolution?
     -  How was the term "Industrial Revolution" popularized?
     -  What are a few of the industries that began to thrive?
     -  Identify social, cultural, economic and technological changes?
     -  What was the industry of the first modern factory?
     -  What is another term for the "Second Industrial Revolution"?
     -  When did this the "Second Industrial Revolution" occur?     
For answers to this Industrial History Quiz
and more interesting facts, check out 
"10 Interesting Facts About the Industrial Revolution"!

Answer!
What do forklifts and spider legs have in common?
Forklifts and spider legs both operate by
using hydraulic pressure.

                 If you're interested in learning more about spiders
                 and their use of hydraulics, have a look at this
            interesting link on spiders and hydraulics. 
            And here's a great little video about Hydraulic Spiders as well. 

*  Disclaimer: the use of this page is intended for coffee break time, not on the boss's time. 
---
Shop For Material Handling Products
Shop For Protective Safety Workwear
---
---
Shop for Industrial Protective Safety Wear - Canada
---
---
---
---
We Created This Website 
With 

SBI!


If we can do it, you can too!


.