Adjustable Pallet Racking

Components
The Redirack brand of adjustable pallet racking systems (also Redi-Rack or sometimes Ready Rack) is made up of several industrial pallet racking components that, when placed together, comprise your solid steel racking and shelving.  

Uprights or End Frames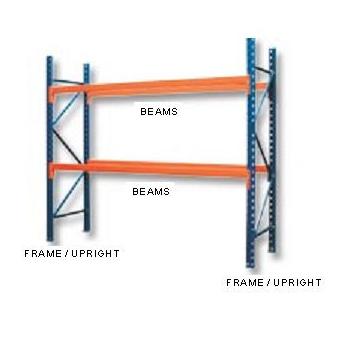 The uprights (or end frames) determine the height and depth of your pallet rack units. The beams (or crossbars) span between them.
The uprights (or end frames) determine the height and depth of your pallet racking units. They are the lateral structures that hold the beams (or cross bars) in place. We have a wide variety of Redirack uprights of varying height and depth. Heights can range from workbench size to over 25 feet tall. The depths of the upright end frames also vary, accommodating a multitude of uses. A common width used in the warehouses is 42" which fits a standard 40"x 48" skid or pallet. Racks 18" to 24" wide is a common size for an automotive shop or garage on which tires fit nicely depending on their sizes. The Redirack adjustable pallet racking upright frames are fully welded. 
An example of used Redirack industrial racking being used by one of our valued clients, Glengarry Tire, in Eastern Ontario, Canada
In addition to the standard depths of industrial pallet racking, we have also other varying depths of adjustable pallet racking. 
Racks 18" to 24" deep is a common size for an automotive shop or garage on which tires fit nicely, depending on their sizes. 

This photograph shows how one of our clients Glengarry Tire is utilizing the used Redirack industrial racking which they purchased from Sampson Industrial.  It holds the tires nicely and helps to keep their operation organized.
The size of racking that they are using in this photo is 18 inches deep which stores vehicle tires perfectly. Being a rural business, they also purchased some deeper 42 inch racking as well, which they use for storing tractor tires. 

Beams or Cross Bars


Beams (or cross bars) are attached to the upright frames, spanning horizontally between uprights.
Beams (or cross bars) are attached to the upright frames, spanning horizontally between uprights. They forms the shelving levels (or tiers) of the Redirack pallet racking system.
There are varying sizes and lengths of beams, as well as different types of beams such as box beams and step beams. The larger the beam, the stronger the support to accommodate different weight loads. It is very important to know the weight that each level will be bearing when purchasing your Redirack racking. If you need to consult with us about your requirements, please feel free to do so. If you have any questions, we're always glad to take the necessary time to advise regarding racking safety of your facility, which is very important to us.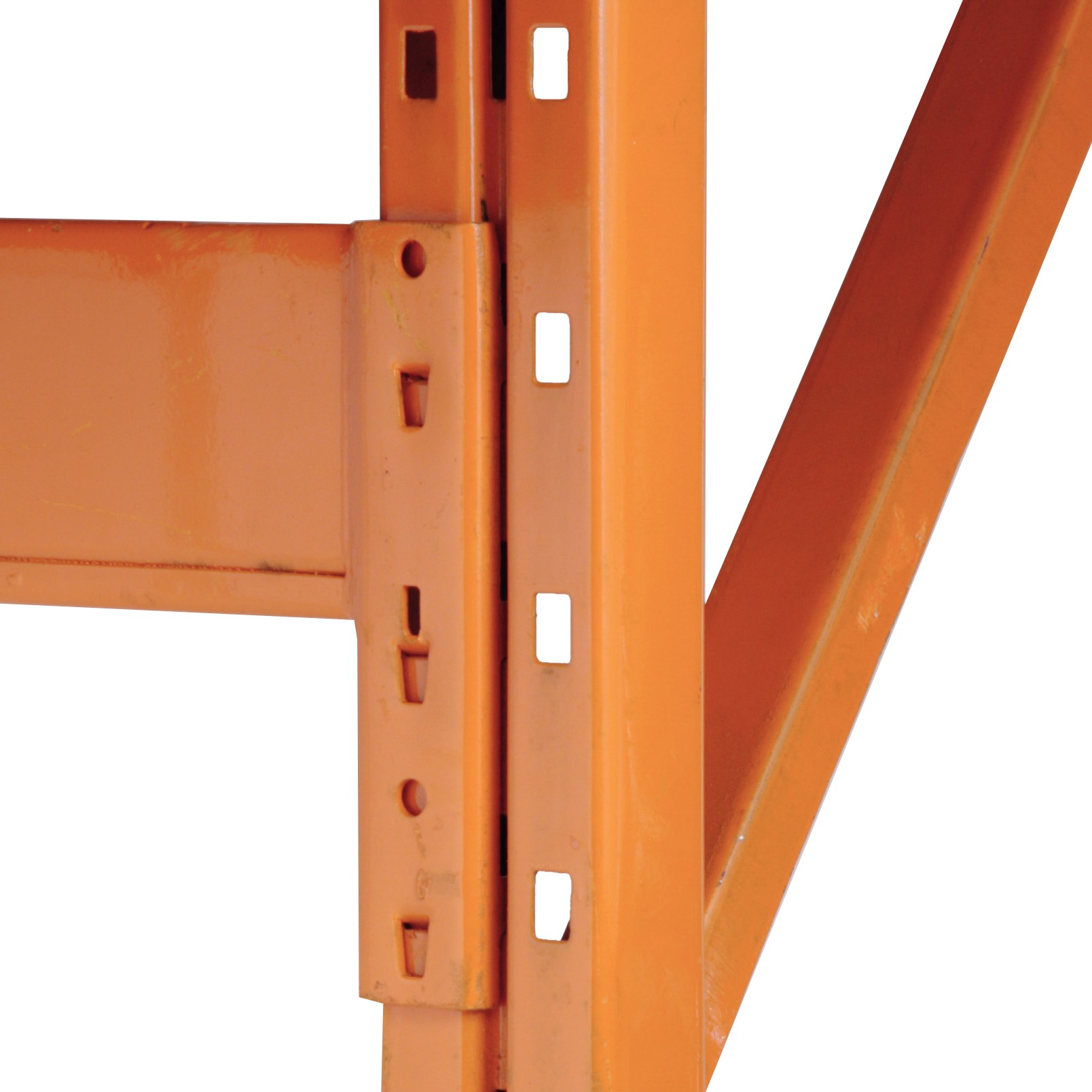 The end of a horizontal beam which is connected to a Redirack upright.
Redirack has uniquely shaped connectors at the end of each beam which differ from other brands of industrial pallet racking. Redirack beams have three hooks on the side and three punch-outs on the front which give the beam double anchoring stability and strength when connected to the upright frame.
There are two main types of Redirack beams: box beams and step beams. Box beams are stronger and able to take a heavier load than the step beams. Step beams have a step on the inside of the beam enabling the clip-in safety bar to fit on the inside so the top of the beam is flush with the safety bar. 

Safety Bars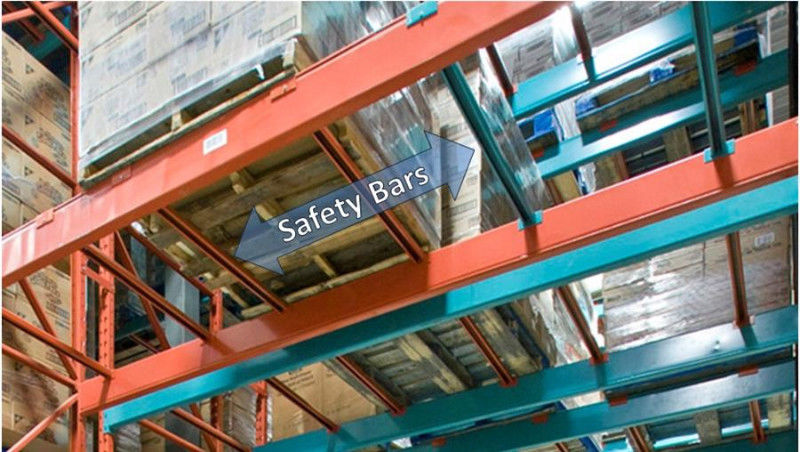 Safety bars span between the beams (or cross bars), adding stability to the structure and undergirding for the pallets to rest on.
To complete the shelf at each level, one of two choices is required to span between the beams of your adjustable pallet racking: safety bars or wire mesh decking.
When using pallet storage, safety bars work well.


Wire Mesh Decking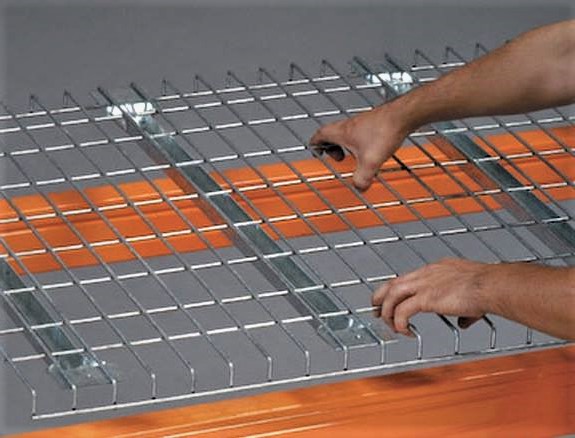 Wire decking is a very popular choice with our clients. Also spanning between the beams, it serves as a strong "shelf" for storing your materials and products. Wire mesh decking is used for a wide variety of applications, replacing plywood, press-board, and other wood decking which collected dust and debris and was a fire hazard. Wire decking is very stable, much stronger, versatile and durable. It also meets safety and fire code requirements.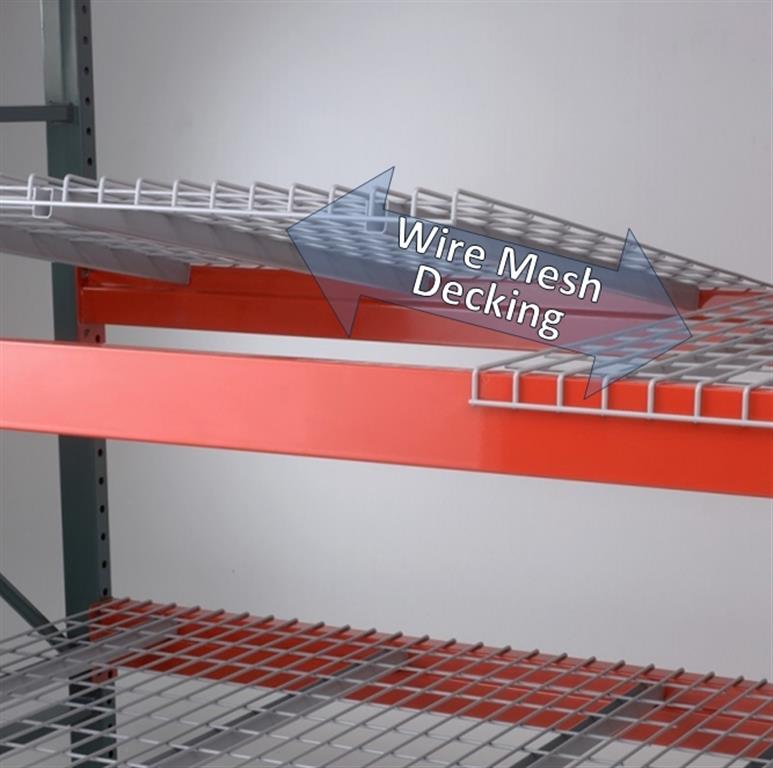 Adding stability to the industrial pallet racking units, this heavy duty wire mesh decking is ideal for use in many applications, for either fully loaded pallets or irregular and smaller items. With its built in safety bars, wire mesh decking is an excellent option for storing loose items. It is cost-effective, simple to install, maintenance free, and not as susceptible to damage, for a few of the advantages of going with wire decking.

Adjustable Pallet Racking Corner Protectors 


Pallet racking corner protectors are designed to protect the bottom part of the upright frame from damage that can be caused by forklifts or other mobile equipment. 
It is nearly impossible to eliminate accidents in the workplace, especially when using fork lifts in a busy warehouse. However, pallet racking corner protectors provide a cost-effective way to reduce potentially expensive damage to your pallet racking uprights.

Row Spacers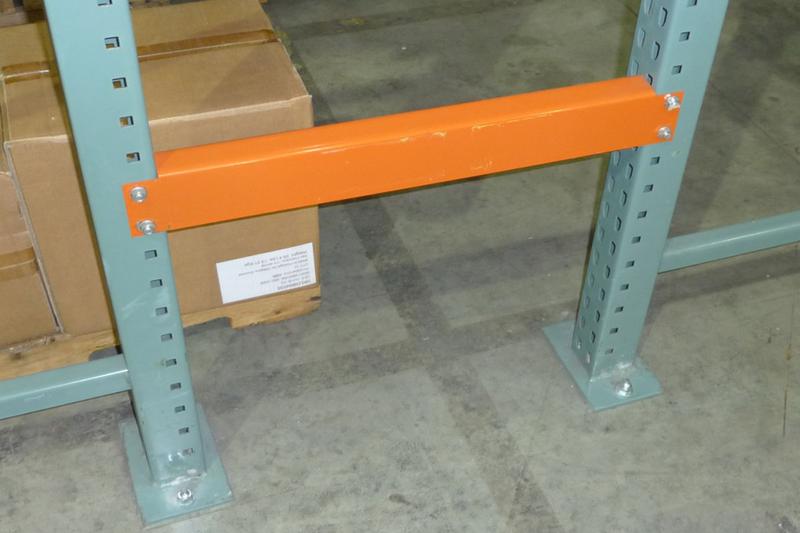 An example of an industrial pallet racking Row Spacer being used between two rows of racking.
Row spacers (also called Run Spacers) are attached to pallet racking units when they are arranged in back-to-back rows.  The spacers are mounted between adjacent columns to ensure that the rows are kept straight and to give the pallet racks even more strength and stability, maintaining a fixed safety clearance between double sided rows (or runs) of racking. 
We carry all these pallet racking components and more!
Contact Us for a consultation or quote today!

---
Return to Redirack Pallet Racking Systems
---
Shop For Material Handling Products
Shop For Protective Safety Workwear
---
---
Shop For Protective Safety Workwear - Canada
---
---
Amazon's Best Occupational Health and Safety Products
---
---
Powered by 

SBI!


If we can do it, you can too!


.