Cool Bunk Bed Ideas

Industrial Style:
Pallet Rack Repurposing
When searching for unique bunk bed ideas, have you ever considered repurposing used industrial pallet racking that has been retired from its position in the warehouse? Why not? It's strong, durable, stylish, and it will last for years! What adventurous youngster wouldn't have fun imagining that they're sleeping in an old warehouse? And the teens will enjoy having unique bunk beds that sport the trendy industrial look. Pretty cool, eh?! 

Bunk Bed Ideas That Are Great for All Ages
Here are some great bunk bed ideas that will work well for all ages. With a bit of creativity and imagination, you can add some fun spunk to a young child's bedroom or create some serious industrial style for someone older by putting a few pieces of using industrial pallet racking together! If fact this would make a great parent-kid project! And what kid wouldn't love to say that they had a part in putting it all together!

You will have a unique industrial look that can be easily tweaked to match individual age stages and personalities. If the little ones are Nemo fans, the bright orange and blue of Redirack's industrial pallet racking are the perfect colors to start out with! They will be quite happy with bunk beds that match Nemo and Dory's amazing underwater world! As your youngsters grow a bit older, they might enjoy the unique adventure of sleeping on shelving that was once part of a busy warehouse or that may have held pallets of their favorite cold cereal in the local Costco! 
Over the years, this industrial look can grow up with your maturing young person by redoing the look of the bedding and adding different accessories to meet the changing tastes and needs. 

Perhaps your older son may want to tone down the brighter colors and paint his metal bunk bed a more industrial steel gray. Or your daughter may prefer a soft white or any other favorite color! Click here to buy Rustoleum paints online where you'll see a classy Dark Copper and many other colors to choose from! Besides a wide variety of colors – you'll also find metallic spray paints like  Silver, Metallic Aged Copper, or a cool Gloss Chrome among many others. They also offer interesting textures like this 'Bleached Stone' which is available in multi-color spray paints as well. 
And this Hammered Metal Finish Spray in Verde Green would be very classy. If they have ' champagne taste', how about this Metallic Champagne Mist to match it! And last but not least, this beautifully textured  Hammered Metal Finish in 'Gold Rush' would give you the look of a bed overlaid in gold! Rustoleum is a great quality paint, and there are also other good brands on the market that would work perfectly! 
To change the color of your repurposed pallet rack bunk beds, just choose your paint, dismantle the bunk bed, take it outside, give it a quick sanding all over to remove any shine from the previous paint, spray it all over evenly, allow it to dry thoroughly, reassemble the bunk bed and redecorate the room! 
As you can see, the look and feel of this industrial style bunk bed can morph from a young child's fun bedroom to a more mature out-of-the-norm dorm in collage.
So how do you do it? All you'll need are two upright frames that are 6 feet tall and 39 inches wide, just the right width to fit a single mattress.  You'll also need 5 beams, 2 for each level of the bunk bed, and 1 for a safety rail for the top bunk. These beams should be about 75 inches long. To span the width between the beams, you'll need 6 pieces of wire mesh decking, 3 on each level, to hold the mattresses and secure everything together. Give us a call or use our Contact Us page - we have what you need for you to make your great bunk bed ideas become a reality!

A Few Other Creative Bunk Bed Ideas


Here are a few more cool bunk bed ideas that you may find inspiring to put together using repurposed pallet racking. Your kiddos will love them too! 
To create an inviting fort or playhouse underneath the top bunk, just remove the bottom bunk and turn this space into something special for your child.  In a few years your kids may appreciate bunk beds with a desk underneath. This space can grow up with them and be transformed into a comfortable study nook with a small desk and chair, a couple of shelves for books, a light and a bean bag to curl up in for reading and relaxing. 

Bunk beds work great for a smaller, room especially if it's shared by more than one child.  And why not make a triple bunk bed? Since these bunk beds are custom made to meet your needs and tastes you can make them three or even four bunks high if you want to! They can be easily reconfigured as well. You can see how they are perfect for having sleep-overs with friends or for creating an efficient sleeping space for larger families. And when you're on a budget, they're cheap bunk beds compared to others out there in the market. You'll be your kid's hero and they'll enjoy you including them in the project so that they can take ownership through age-appropriate helpfulness in creating a bed for themselves to sleep in.
There you have it! Now go ahead, get creative with your bunk bed ideas! Try this fun pallet rack repurposing project that turns retired industrial pallet racking into something creative, innovative, useful, and attractive! You can't ask for a stronger and more durable bunk bed for an active, growing child! You've redirected those pieces of used steel from their normal landfill destination! And in the end, we all benefit from that!

If you've been inspired by any of these bunk bed ideas using repurposed pallet racking, give it a try! Use your innovative creativity! Your kids will love it!
Check out our Used Racking page. We have the used industrial pallet racking here ready for you to repurpose it. Call us or visit our Contact Us page.

Just a Bit More About Industrial Decor 


Industrial Style or Industrial Chic refers to an aesthetic trend in interior design that takes clues from old factories and industrial spaces that in recent years have been converted to lofts and other living spaces.*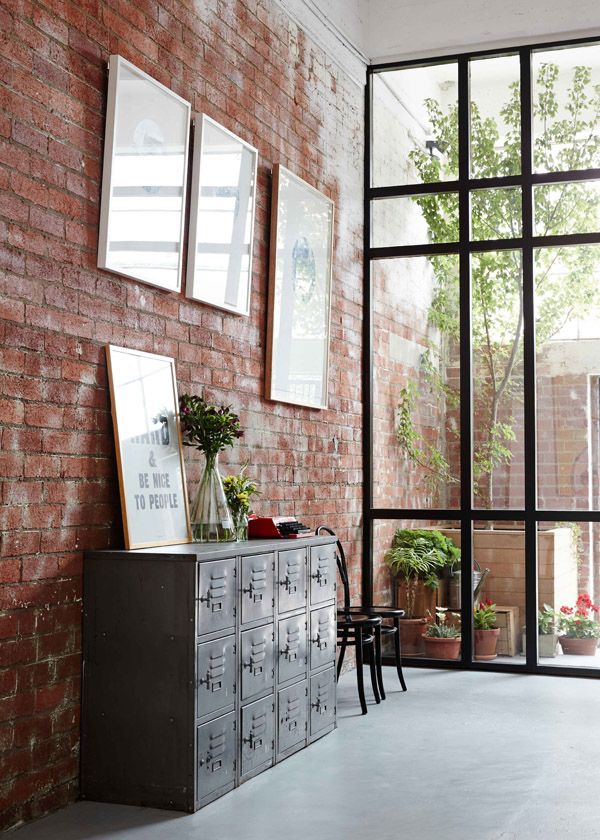 An exposed brick wall blends wonderfully with vintage industrial metal furniture. Photo: freeinteriorimages.com
Do you find the Industrial Style attractive? You can find some pretty cool treasures for accent pieces in second hand stores and 'junk shops'. The Industrial look can set a comfortable tone in a room that both men and women will enjoy. Here's a few tips if you'd like to introduce it into your living space. 

Exposed brick or stone walls are wonderful backdrops for the Industrial look when you want to display repurposed Industrial metal items. If your place is newer, it's not too difficult to bring back a bit of that vintage look that blends so well with Industrial decor. To begin your room's transformation, you can pick up some faux brick or stone paneling or even realistic looking wall paper at the hardware store. If you're not able to give your room the look of brick or stone walls, then try painting them using a nice grey or beige. White can work well too. 

Do some research, get inspired! Figure out what appeals to you and what doesn't. Do you prefer a more modern look or more vintage? Both blend very well with the Industrial Style of decor. Getting your inspiration from what others have done will help you to decide what works and doesn't work for the space that you have in mind. And if it's a neutral living area, try to create a good balance that is neither too masculine or too feminine.

Have fun adding some old metal lockers, perhaps a vintage looking over-sized metal clock, and some metal lettering or signage. You may want to add some industrial lighting fixtures, perhaps a piece of old gear-design wall art, sprocket bookends, and maybe an old-looking globe. Live plants in either vintage or modern metal planters will add some life to the look that you're trying to achieve.  There are many accessories that a person could use to go with the Industrial decor of a room. These lovely pieces pictured above are from HGTV's Fixer Upper with Chip and Joanna Gains' collection. 

Now if you take this inspiration and put it together with your own bunk bed ideas using repurposed industrial pallet racking, you'll be amazed at what you can create! So go ahead and give it a try! Then let us know how it turned out and feel free to share any tips with us that you've picked up along the way!
Just below you'll see a form where you can share your creations, how you did it and photos. We'd love to hear about it!

Or if you have any questions, please feel free to contact us. We're here for you!
---
Tell Us About the Different Ways You've Repurposed Industrial Pallet Racking!
Have you come up with some interesting, useful, creative ways to repurpose Pallet Racking? Please share your ideas and photos! We'd like to hear about them!

Whether it a hunting stand, a fort for your kids, a structure to hold rabbit cages, a storage solution for your garage, bunk beds, a small greenhouse or shed, a workbench, farmgate or a carryall tractor implement... Perhaps the things that you've created out of used Pallet Racking will give someone else the idea that they were looking for! And please don't forget to add your photos!


---
Shop For Material Handling Products
Shop For Protective Safety Workwear
---
---
Shop for Industrial Protective Safety Wear - Canada
---
---
---
---
We Created This Website 
With 

SBI!


If we can do it, you can too!


.